Menu Options at Eat!@Banning and 5th
From scratch means a lot of things. It means our shelves are full of ingredients and not cans. It means that our mornings are full of measuring and mixing and baking. It means that you will be able to taste the difference. And we hope you'll enjoy it.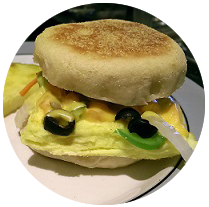 Breakfast
WE ARE NOT CURRENTLY
SERVING BRAKFAST
It's different. It's fast. It's from scratch. It's inexpensive. Our breakfast is a welcome change from greasy spoon dining.
Handmade biscuits and English muffins (YES we make them both right in our very own kitchen) and 3 or more flavors of quiche every day lead up the menu. Have the best waffle ever that we make from eggs, sugar, flour, etc. and not from a box or bag.
Take the time to eat it in instead of going to the drive-through. No matter how you get it, it's good and fresh and, well, good for you.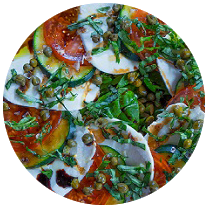 Lunch
Daily, fresh chopped ingredients
Homemade salad dressings

Fresh roasted meats and stocks

Fresh bakery breads

Highest quality meats and cheeses
We could keep going...
We are pretty serious about sandwiches and are not afraid to make them right in front of you while you watch. We are also not opposed to you doing a little customizing.